Terrorism
|
2016-09-19
Child suicide bombers expose ISIL's weakness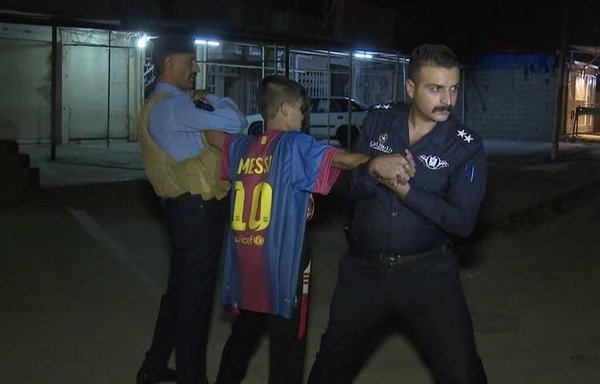 In a last ditch effort to offset its mounting losses at the hands of the Iraqi forces, the "Islamic State of Iraq and the Levant" (ISIL) has resorted to using children to carry out suicide attacks, Iraqi officials told Diyaruna.
Iraqi police recently thwarted two would-be suicide attacks by children who were sent to blow themselves up among security personnel and civilians in the city of Kirkuk.
The police had prior knowledge of ISIL's intention to strike Kirkuk with two suicide bombers, Kirkuk police chief Brig. Gen. Khattab Omar Aref told Diyaruna, adding that they took the necessary measures to foil the group's plans.
"We declared a state of maximum alert, and our forces on August 21st managed to shoot at one of the suicide bombers and blow him up before he was able to reach the Jaafar al-Sadeq Islamic centre in al-Wasiti neighbourhood in southern Kirkuk," he said.
The suicide attacker was a child, he said.
"Following that attempt, our forces on the same day also were able to thwart a second suicide attack, with another 15-year-old child, near the old youth centre in al-Tisin neighbourhood in central Kirkuk," he said.
ISIL elements first remotely detonated an explosive device, he said, adding that amid the ensuing commotion, the bomber sneaked in among the paramedics and security personnel, intending to blow himself up and cause further casualties.
"However, the police detected him and managed to catch him and defuse his explosive belt," he said.
"We are conducting extensive investigations with the child to find out how he was recruited and who assisted and accommodated him," Aref said.
A history of abusing children
Extremist groups such as ISIL have previously used children to carry out suicide operations after brainwashing them with extremist ideology, Aref said.
"As a result of its heavy losses, ISIL is trying to return to this method, to exploit children's innocence, and manipulate their feelings and brains in order to implement its terrorist goals and cover up for its defeats and weakness," he said.
"We will work to update our security plans to handle any terrorist attempts of this sort," Aref said. "We will not allow ISIL to commit any more massacres, and will be on the lookout for them."
"ISIL is experiencing its worst days right now," said Kurdistan Democratic Party in Mosul media officer Said Mamuzini. "Its use of children in suicide attacks is its last card and a clear indication of its deterioration, despair and inability to put up a fight."
After ISIL overran Mosul two years ago, the group established the so-called "Cubs of the Caliphate" army, a formation that included around 2,000 children under the age of 15, Mamuzini said.
"The children, whom ISIL had forcibly taken from their families, were put through violent training in hand-to-hand combat and use of weapons in recruitment camps in Mosul," he said.
In these training camps, ISIL worked to brainwash the youngsters and prepare them to carry out attacks, including suicide attacks, he added.
Children must be protected
The failed suicide attempts in Kirkuk "expose the terrorists' intention to prepare for the phase that will follow their inevitable defeat in Mosul" by returning to the use of child bombers to carry out their attacks, Mamuzini said.
All security efforts must be mobilised in order to prevent this from happening, he added.
Iraq's Independent High Commission for Human Rights strongly condemns ISIL's attempts to use children as murder weapons, commissioner Fadel al-Gharawi told Diyaruna.
"Following the recent painful blows the terrorists have received, they have gone back to committing their crimes by using children in suicide explosions in order to portray themselves as still strong and able to inflict losses," he said.
The commission condemns all of ISIL's terror tactics and calls for all appropriate measures to be taken to quickly eliminate extremist groups and keep them from exploiting and recruiting children, al-Gharawi said.
"Childhood in Iraq has undergone the worst abuses at ISIL's hands," he said. "It is important to work to erase any effects on our children's minds and behaviour left by the terrorists in order for them to grow up properly and be active elements of society."