2017-08-15
Îraq dest bi deynên karê biçûk dike li Nînewayê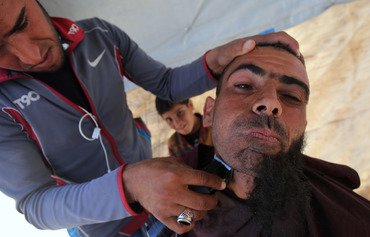 Hikûmeta Îraqî ji 1ê Tebaxê ve programê deynê karê biçûk li Nînewayê ji nû ve aktîv dike piştî ku sê salan hatibû rawestandin dema "Dewleta Îslamî" (DAIŞ) kontrola herêminan ji parêzgehê dikir.
Tê pêşbînkirin ku dora 3,000 niştecî ji programê sûdê bigirin.
Yek ji sûdmendên gengaz --Haris Hemed, 42 salî, ji taxa Musena ya Mûsilê -- ji Diyaruna re got ew hêvî dike ku deynekî wergire daku saloneke porê ya mêran veke nêzîkî cihê rûniştina xwe.
Ew berê barber bû, wî got, lê wî nikaribû di pîşeya xwe de kar bike dema ku DAIŞê kontrola herêmê dikir, ji ber rêxistinê kurtkirina porê qedexe kiribû.
"îro, ez arzû dikim ku ez dikaneke biçûk vekim," wî got. Dema kar berfereh bibe, ez dikarim berberin din bi kirê bigirim daku bi min re kar bikin û dibe ku bibe jêdera debara me."
Piştî ku DAIŞê girte ser bakurê Îraqê di Hezîrana 2014an de, Wezareta Kar deynên alîkariyê nema dane nişteciyên Mûsil û bajarin din li parêzgehê, berdevkê wezaretê Emar Munem got.
Eger ev dem bi dawî bibe, xelk dikarin careke din deynan bixwazin, wî got.
Pereyên ji deynan re hatine nîşankirin
Aniha, Munem ji Diyaruna re got ku, 24 milyarê dînarê Îraqî (21 mîlyon$) ji programê deynên karên biçûk re hatine nîşankirin.
Wezaret dê deynên tekekesî ji sê heta heşt mîlyon dînarê Îraqî (2,577$ heta 6,872$) bide daku projeyên karê biçûk bimewilînin.
"Şert û merc û prosedûrên deyndan hene," Munem got, wî anî ziman ku prose dê ji nişteciyên Nînewayê re were hêsankirin.
"Sîstema me merc dike ku em dê deyn li ser du bêşan bidin, lê em dê mêjerê bidin sûdmendên Nînewayê di yek mûçedanê de," wî got.
Nişteciyên parêzgeha Nînewayê dikarin daxwaza xwe di rêya malpera wezaretê re: http://www.molsa.gov.iq/ pêşkêş bikin.
Deyn dê werin belavkirin li ser 3,000 sûdmendan ji Nînewayê, di nav wan de 800 nişteciyên Mûsilê, Ehmed Ebdul Emîr got, serokê Wezaret Dezgeha Kar ya Piştgiriya Karê Biçûk.
Beritî dê ji berendamên ku pêşî xwe di programê deynan de qeyd kirin re be û ji nişteciyên bêwar ên ku vegeriyane, wî got, wî anî ziman ku ew dê xwestekan berçav bikin li ser bingeha jêhatiyên akadîmî û kêrhatina projeyê.
Handana nûvejîyandina aborî
"Em dixwazin ev program alîkariyê bi nişteciyan re bike daku kar bikin û di nûavakirina bajarên xwe yên rizgarkirî de beşdar bibin," Ebdul Emîr got.
Vegerandina deynan dê mehane be li ser pênc salan piştî salakê ji wergitina pereyan dê dest pê bike, wî got.
Daxwazname tên qebûlkirin heta 1ê Cotmehê.
"Pereyên nîşankirî ji programê deynan bo Nînewayê bi me re hene, eger bêtir pere bi dest me ketin, em dê hejmara kesên deyndar zêde bikin," wî got.
Endamê encumena parêzgeha Nînewayê Ebul Rehman Weka got destpêkirina programê deynan " gaveke rast e di dema rast de hatye standin".
"Dana deynan dê bêkariyê kêm bike," wî ji Diyaruna re got, ji ber ku gelek niştecî karên wan ji ber tundiyê ji dest wan çûn.
Deyn dê herwiha weke hander ji bo nûavakirin û bipêşvebirinê re xizmetê bikin, wî got, wî tekez kir ku hewcedarî heye ku proseya nûavakirinê bi lez bikin û careke din hemû benk û dezgehên hikûmetê vekin.
0 KOMÊNT
MIJARÊN TÊKILDAR