2018-12-04
Shortage of buildings, truancy plague Iraqi schools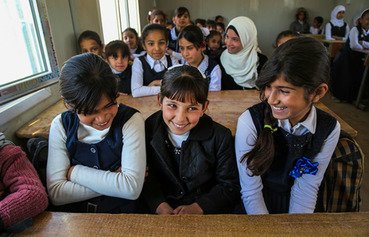 Public education in Iraq is facing a severe shortage of school buildings, which has in turn fueled chronic absenteeism, Iraqi officials said.
The country's deteriorating education infrastructure, which has been hit hard by the war with the "Islamic State of Iraq and Syria" (ISIS) and a weak economy, requires immediate government focus, they told Diyaruna.
The war against ISIS delayed the building of new schools, and caused the destruction of many others, which the group had commandeered as headquarters for its fighters.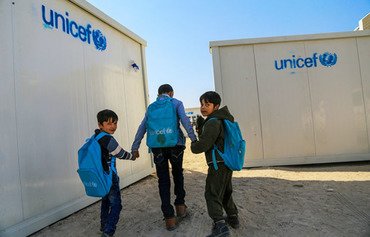 Economic inequality is a large determining factor as to whether Iraqi students finish school, the UN children's agency (UNICEF) warned last month, urging the government to spend more on education, AFP reported.
An economic downturn, years of fighting ISIS and little government support has left Iraq's school system lacking, UNICEF found in a study of more than 20,000 families.
Socio-economic status creates a huge gap regarding which students graduate from secondary school, with a 73% graduation rate for the wealthiest students, compared to just 23% of the poorest, UNICEF said.
One-third of Iraqi schools operate multiple shifts in an effort to enroll as many students as possible, meaning they may get just a few hours of instruction each day.
To improve access to education, Iraq needs 7,500 new schools, UNICEF said.
"It has to do with the conflict, the economic collapse, and lack of investment over the past 20 years. When the quality falls, then children themselves march out of the classroom," UNICEF country director Peter Hawkins told AFP.
"Children are the future of this country, and a growing gap between the 'haves' and the 'have-nots' sows discord and is detrimental for children and for Iraq," he added.
To get more children into school, the government must boost its spending on education, one of the lowest rates in the region at just 5.7% of total expenditure, UNICEF said.
Overcrowded classrooms
The shortage of school buildings has resulted in overcrowded classrooms, Baghdad provincial council education committee member Fadhil al-Shuwayli told Diyaruna.
"Sometimes you can find up to 80 students in a single classroom," he said, noting that "several school administrations have resorted to directing some students to stay at home on a rotating basis".
The Board of Education has been bringing together more than one school in one building on a rotating basis, he added, with some schools on the outskirts of Baghdad accommodating four shifts in the same building.
"The negative impact of overcrowded classrooms and rotating schools in one building will not only affect educational standards but also will affect students' health," al-Shuwayli said.
In light of the difficult economic situation, the government has been unable to implement radical solutions to the crisis, and is instead resorting to temporary fixes such as providing sporadic mobile schools, he said.
Chronic absenteeism
Absenteeism is another challenge facing education in Iraq, Ministry of Education researcher Abdul-Halim al-Husseini told Diyaruna.
Two main factors have contributed to rising absenteeism, he said: the war against ISIS, and the difficult economic situation many families face.
"Security and the economy are two important factors in the educational process in any country in the world, without which you will see dangerous ramifications on the education sector," he said.
"When the breadwinner of the family finds himself unable to provide school supplies for his child, he might force the child to leave school and find work to earn a living," al-Husseini said.
The Iraqi Teachers' Syndicate has raised several recommendations to parliament to address the shortage of school buildings, said Muhsin al-Saidi, head of the syndicate's Nasiriyah branch.
"A key recommendation is to form a supreme committee funded with earmarked funds from the national budget and directly linked to the Prime Minister's Office," he told Diyaruna.
This committee would be tasked with building public schools throughout Iraq, he said, and would be guided by strategic plans of five or 10-year duration.
"The syndicate also had advised the government to instruct its ministries to allocate funds from their annual budgets to build schools," al-Saidi said.
0 COMMENT(S)