Society |
2018-12-03
Iraqi Civil Defence rescues families trapped in Mosul flooding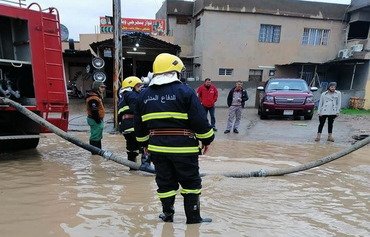 The Iraqi Civil Defence Directorate has rescued around 80 families in the city of Mosul after rainwater flooded their homes, the directorate said Monday (December 3rd).
Iraqi authorities on Sunday declared a state of emergency after flash flooding and torrential rainfall battered Ninawa province.
"A week ago, we received a report from the meteorology department that predicted heavy rainfall in several Iraqi provinces that would be concentrated in Ninawa province and the city of Mosul," said Col. Hussam Khalil Abed, director of Civil Defence in Ninawa province.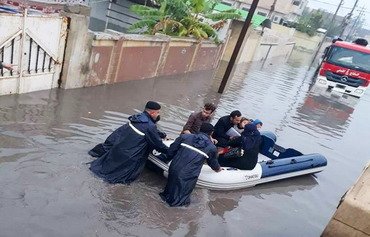 "We consequently put our teams, vehicles and means of rescue on a state of high readiness to address any emergency situation and handle them as quickly as needed," he told Diyaruna.
Rains flooded many residential neighbourhoods in Mosul, including al-Tayaran, al-Jawsaq, al-Dawwasa and al-Tawwafa in the western side of the city, and the neighbourhoods of al-Shurta, al-Rashidiya, al-Taamim and al-Maliya in eastern Mosul.
The flooding in these areas reached a level of more than half a metre because they lie at a lower plain level than the rest of the city, Abed said.
"The directorate has set up an emergency plan that included dividing the Civil Defence forces into 16 teams, with each team headed by a rescue officer," he said.
All teams are equipped with vehicles, rafts and evacuation and on-site medical assistance supplies, he added.
The Civil Defence has so far extracted about 80 families who were trapped in their homes and evacuated them to safe locations, he said.
No casualties or injuries have been reported in the Mosul floods as of yet, Abed said.
Earlier on Sunday, local media said that four people had died in the floods in Mosul.
'No ISIS explosive remnants'
The Civil Defence is currently working in co-operation with municipal and public services departments to drain the water from the neighbourhoods, an effort that is "going well", Abed said.
He dismissed concerns that the floods would unearth and sweep remnants of unexploded "Islamic State of Iraq and Syria" (ISIS) bombs and explosive devices.
"We can reassure the residents that the civil defence and the engineering effort of the Iraqi army's 20th Division have removed all of the terrorists' explosive remnants and conducted surveys to ensure that these areas are free of any foreign or dangerous objects," he said.
As for the possibility of a renewed wave of heavy rain this week according to new meteorology forecasts, Abed asserted that "our personnel is ready and our contingency plan is ongoing".
1 COMMENT(S)