Terrorism
|
2017-08-24
ISIS propaganda attempts to smear Iraqi army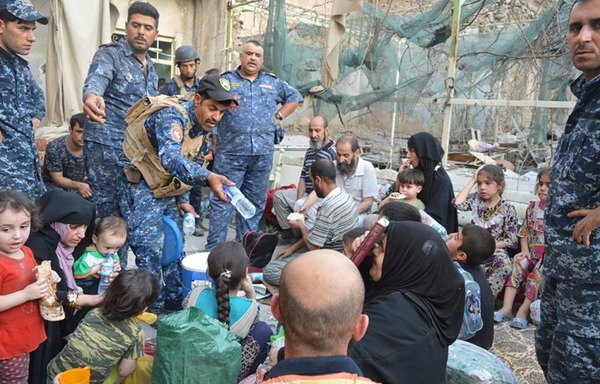 The "Islamic State of Iraq and Syria" (ISIS) has been engaged in a vicious campaign to undermine the Iraqi military by disseminating false videos that purport to show soldiers committing crimes in Mosul, Iraqi officials said.
The group's latest propaganda campaign was rolled out on social media at the beginning of the battle for Mosul, they told Diyaruna.
But spreading falsehoods has long been part of the group's modus operandi.
In a December 19th statement, the Iraqi government accused ISIS of publishing old, fabricated videos on social media in order to stir up strife.
On March 12th, the military operations command issued a similar statement, confirming that ISIS had produced false videos and published them online to delude people into believing the Iraqi forces had been committing violations.
The videos are generally filmed on mobile phones in unknown locations, and the faces and features of the perpetrators are not clearly rendered.
Although they appear amateur, ISIS produces such clips professionally in order to make them seem authentic, said Hashem Hasan al-Tamimi, dean of Baghdad University's faculty of media.
"They are marketed through digital communication media to spread quickly," he told Diyaruna, adding that by spreading misinformation, ISIS aims to "harm the reputation of the security forces and the victories they have achieved".
ISIS seeks to raise questions about the professionalism of the armed forces and mislead public opinion, he said, adding that it seeks to "instill fear among residents of liberated cities and weaken public confidence in government forces".
This misleading messaging is of particular concern in areas that have not yet been liberated, he said, stressing the need to raise awareness about the inauthenticity of these videos and urge people not to take them at face value.
Tighter monitoring required
"The Ministry of Communications and the National Media Authority bear the brunt of the responsibility to respond," said Iraqi MP Sarwa Abdul Wahid, who serves on the parliamentary culture committee.
"We need these two institutions to take firmer action," she told Diyaruna.
"We should monitor fake videos and images and intervene to block them and block any sites that somehow serve the propaganda of terrorism," she said.
"This is ISIS's method when it falters or loses any battlefield," she said, adding that the group resorts to spreading lies in an attempt to intimidate people.
ISIS has been exploiting social media to negatively portray the Iraqi military's achievements and spread false accusations against soldiers, security expert Jassim Hanoun told Diyaruna.
While it is true that a small minority of soldiers have committed violations, this is the exception and not the norm, he said, noting that these cases have been dealt with immediately by the authorities.
"These practices were characterised as being very limited," Hanoun said, stressing that the federal government and ranking military officers have brought those responsible before military courts.
Strong deterrent measures have contributed to "curbing any cases of individual abuse that may occur and ensuring they do not spread to the security and military institutions", he said.
1 COMMENT(S)